BOUNDS
Larry Achiampong | Bounds Green School | EILIS + JAKOB | Holly Graham | Erin Hughes | Jennifer Martin | Dan Mitchell | Milly Peck | Francesca Tamse | Skeuomorph | soft/WALL/studs
17 July – 22 October 2019 | skelf.org.uk
BOUNDS is a group exhibition curated by Cypher BILLBOARD for online project space Skelf. This exhibition draws together new works by artists who have previously shown or will this year be showing artwork on the Cypher BILLBOARD poster site – a programme of site-specific and public responses to a billboard in Bounds Green, London.
This web-based show, which runs alongside several of this year's billboard artworks, hopes to extend conversations taking place on the physical site whilst exploring the relations it has to Skelf's online space. Both sites, physical and virtual, operate as alternative frameworks for making and displaying artwork. They respond to the closed economy of exhibition spaces by functioning outside of the traditional gallery format. Operating beyond white cube walls, they nestle instead in ambivalent public spaces often otherwise assigned to commercial use. They sit openly accessible, either in passing or guided by a link.
In order to access this collection of artworks, the viewer is invited to navigate a virtual map of Bounds Green. This area, historically located on the outskirts of London, was originally formed as a popular stop-over for travellers before they reached the tollgate at Turnpike Lane, and the Green still partially exists as two acres of common land either side of Bounds Green Road. The inclusion of a map of this area as the background to the site frames the exhibition thematically in its consideration of: boundaries and boarders, public and private space, thoroughfare and destination, site-specificity, and how creative practices might respond to and develop out of certain limitations.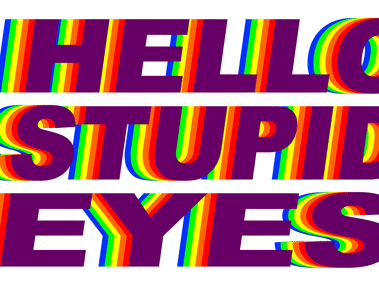 Wednesday 21st August 2019, 6-9pm
Domino Houses Billboard, Bounds Green Road, N228YB
Join us at the Cypher BILLBOARD site for drinks and a performance by artist Dan Mitchell in collaboration with musician Ben (The Rebel) Wallers.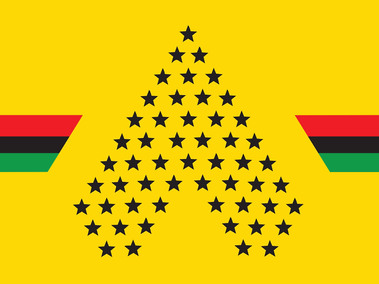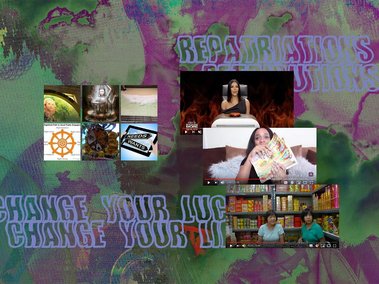 Sunday 20 October 2019, 3-5pm
Hot Milk Cafe, 1 Maidstone Road, London, England, N11 2TR
An Art Licks Weekend 2019 discussion event considering resistance, complicity, and collaboration within collective organisational practice in the arts; programmed to mark the closing of online exhibition BOUNDS.
Larry Achiampong (b. 1984, UK) is a Jarman Award nominated artist (2018). He completed a BA in Mixed Media Fine Art at University of Westminster in 2005 and an MA in Sculpture at The Slade School of Fine Art in 2008. He lives and works in London, and has been a tutor on the Photography MA programme at Royal College of Art since 2016. Achiampong currently serves on the Board of Trustees at Iniva (Institute of International Visual Arts) and is represented by C Ø P P E R FI E L D. | larryachiampong.co.uk
Bounds Green School is a primary school in Bounds Green, North London. It was founded in 1888 under the name of Bowes Park Board School, and was superseded in 1894 by a new school on Bounds Green Road. The school holds the International School Award and the School Travel Plan Gold Level. | boundsgreenschool.co.uk
EILIS + JAKOB are new collaborators. Eilis Searson is a graphic designer who likes education, beautiful books and love actually. She designs the RCA school newspaper, teaches at UAL and runs a publishing imprint called HOLY! HOLY! HOLY! books (previously Camberwell Press). Jakob Rava is a sculptor whose work refers to in/exteriors of architecture as embodiments of political ideas, economic and socio-psychological conditions. His work attempts to call into question our perception of exhibition and public space through " interruption ". | eilissearson.com
Holly Graham is an artist based in London. She undertook her BFA at Oxford University in 2012 and graduated from MA Printmaking at the Royal College of Art in 2014, where she received the Thames Barrier Print Studio Graduate Award and the Augustus Martin Award for Innovation in Print. Recent exhibitions and projects include: The Oval Window, Gerald Moore Gallery, London (2019); The Romance of Flowers, Kingsgate Projects, London (2018); Common Third, C Ø P P E R FI E L D, London (2018); Carefully Cleansed of Labour and Softened by Cooking, Compressor, London (2018); Leaning Against or Holding, Skelf, Online (2018); Sweet Swollen, Jerwood Visual Arts: Project Space, London (2018); After Harry Jacobs: Outside, Cypher Billboard, London(2017); and House Work, 53 Beck Road, London (2017). | hollygraham.co.uk
Erin Hughes graduated from the MA in Painting at the Royal College of Art, London 2018. After completing her BA in fine art at the Ruskin school of Drawing and Fine art, she spent four years living and working in Berlin where she is a co-founder of Cypher Space, which lead to co-founding Cypher Billboard in London. Recent exhibitions include; A Raw Garden, Fitzrovia Gallery, 2019, Hidden, Mid-Wales Arts Centre, 2019; Size Matters, Fringe Arts Bath, 2019; Trans-Form, Mint Gallery, London, 2018; Paper Cuts, Saatchi Gallery, London, 2018; Floored, Glass Cloud Gallery, 2018; Home me 3, Cypher Billboard, London 2017; Mud, Tokyo and Swimming, presented by imlabor, Park Tower HallGallery1, Tokyo, 2017. | erinlaurahughes.com
Jennifer Martin (b 1990) is based in London, working with moving image, photography and installation. Her work operates in part as interventions and articulations of social-racial dynamics and lived experiences. Martin is a graduate of the Royal College of Art (2018) and the Slade School of Fine Art, University College London (2013). Martin was awarded the Stuart Croft Foundation Education Award 2018 and is part of the FLAMIN Fellowship 2019. Upcoming solo exhibitions and commissions include Primary, Nottingham, UK (2019); Turf Projects, London, UK (2019); Cypher BILLBOARD, London, UK (2019). Recent group exhibitions include Aesthetica Art Prize, York, UK (2019); arebyte Gallery, London, UK (2018); Lychee One Gallery, London, UK (2017); and Villa Iris, Fundación Botín, Santander, ES (2015). | jennifer-martin.co.uk
Dan Mitchell is Founder of DEATH LOLZ, Publisher of Hard Mag, cofounder of the Artist Self-Publishing Fair (ASP) and Poster Studio (1994-97). Various solo and group shows include: Luma Foundation, Zurich - Gagosian, London - Oracle, Berlin - Ludlow38, NYC - Temnikova & Kasela, Estonia - Jenny's, LA - Celine, Glascow - 3236RLS, London - Noah Klink, Berlin - and Peak, London. Publications: Hard Mag, DEATH LOLZ Presents and various catalogues and posters. Collaborations: Nang Gallery, Lolina and TheRebel. | danmitchellart.tumblr.com
Milly Peck graduated from MA Sculpture at the Royal College of Art in 2016 where she was awarded The David Troostwyk/Matt's Gallery Studio Award which concluded with a solo show, LOUD KNOCK, at Matt'sGallery (Studio Space), London in 2017. She is also a recipient of a Jerwood Visual Arts Artist Bursary, 2018. Recent shows she has participated in include: Survey, Jerwood Space, London, 2018; The Slip, Tintype, London, 2018; Pressure Head, Assembly Point, London, 2018; Cypher Billboard Project, London, 2018; Refinding: Jessie Flood-Paddock with Kenneth Armitage, The Tetley, Leeds, 2017; Mudhook, Tintype, London, 2017; Top Bantz, The Royal Standard, Liverpool, 2016.| millypeck.com
Francesca Tamse (b.1989) is an artist from California living in London. Her work looks at masculinity from a female gaze. She utilises images and ideas inspired through western pop culture and found imagery to create constructed narratives that put patriarchal elements into subversion. Whether it be through the landscape to the urban construction sites and even through the gallery walls, there is a playfulness and collaborative aspect in the work with her hetero-male counterparts.In October 2018 she developed a poster artwork and accompanying performance for the Cypher BILLBOARD site in collaboration with Mellor & Banks art handling company called 'Perfection by theLines: Fine Art Perspiration'. Her work has been featured and exhibited in Vogue Italia, 1Granary, Self Publish Be Happy, The Plantation Journal, and Dear DaveMagazine. | francescatamse.com
Skeuomorph is a collaboration between Amba Sayal-Bennett and Ralph Hunter-Menzies. Their approach to making draws on concerns and methods within both artists' practices. Their installations are often site-specific, reflecting their shared interest in the marks and traces left by material encounters within urban environments. Recent exhibitions include: Absinthe §2, Spit and Sawdust, London; and MessMachine, UKYA City Takeover, Nottingham. | ambasb.com | ralphhuntermenzies.co.uk
soft/WALL/studs is a collective project based in Singapore involving artists, writers, filmmakers, art workers, and researchers. Its various formats include exhibitions, hosting, support, resource sharing, research, writing, détournement, game-making, teaching and collaboration. | softwallstuds.space