Ed Compson + Arieh Frosh in collaboration with Bounds Green School
Ánemos: Turbines 2030
8 March – 6 May 2021 | Domino Houses Billboard, Bounds Green Road, N22 8YB
From January 2021, an anemometer — a device that reads wind speed — was placed on top of the Cypher BILLBOARD poster site and split into eight discrete wind speed 'sets', giving a continuous, categorisable data stream of wind speed. This curious appendage is a research tool that has informed the development of 'Ánemos: Turbines 2030', a new body of work as part of the 2021 programme. Working together in a remote collaboration with Year 4 students from locally-based Bounds Green School, artists Arieh Frosh and Ed Compson have developed a new billboard poster artwork and a corresponding audio segment that question how the wind can be captured, represented, and wildly interpreted.
Arieh is a Haringey-based visual artist whose recent research interests look at how technology, myth-making and ecological thinking can produce fictions that question local contemporary conditions, and could form generative alternatives. Ed is an artist, facilitator and programmer whose work considers how care, craft and intimacy can exist within both virtual and natural systems and digital environments. Both of their practices directly inform this collaborative body of work.
Over two video recorded workshop briefs, Ed and Arieh introduced students to ideas of wind turbines, green energy, the personification of wind in art and mythology and the transformation of data into sound.
Students were first invited to design a wind turbine of their own, which mixed functional design from contemporary wind turbines (such as the use of rotating blades) with imagined or representational ideas. Five of these initial sketches and collages were then visualised using 3D computer modelling and animation software. The artists attempted to stay as close to the proposed designs as possible in the creation of the turbine shapes, whilst interpreting their materials and colours. The billboard image is a collection of these turbines operating in an open landscape; a fantastical imagining of the harnessing of future winds.
Students were then asked to record sounds representing winds of varying strengths. These audio recordings will be used to generate a sound piece dictated by real wind data collected from the local environment, for broadcast on North London community radio station Threads in April 2021.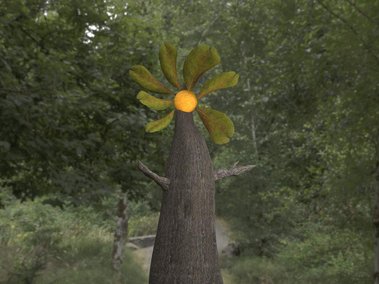 Sounding Sites: 15.26.40 - 16.02.06
Tuesday 6 April 2021, 2-3pm
www.threadsradio.com
A show brought to you by artists Ed Compson and Arieh Frosh, as an extension of their billboard poster collaboration withYear 4 students at Bounds Green School. It features a selection of audio pieces developed in response to wind data, alongside music that has influenced the project, and a bonus track by musician LEYLAH. This is the second of a series of five artist-commissioned radio shows developed for Threads Radio as part of Cypher BILLBOARD's 2021 programme.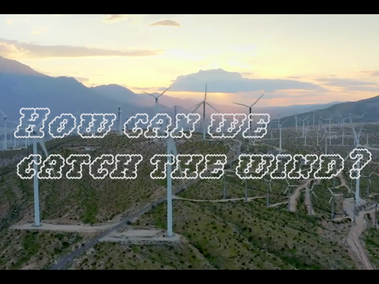 Deadline: Sunday 21 February 2021, midnight
As part of their collaborative project with Year 4 students from Bounds Green School, artists Arieh Frosh and Ed Compson set a creative challenge for students to design their own wind machines.
Can you create a wind machine of your own? Send us your designs and we'll share them on our Instagram stories. We'll also add them to this webpage. We'd love to see what you create!
Arieh Frosh is a practicing visual artist working with an interdisciplinary approach, recently focusing on 3D computer animation, motorised sculptures, writing, and film, to form narrative-based projects. As well as exhibiting individually, such as at the Centre for Contemporary Art,Glasgow, and in group shows across the UK, he has co-ordinated artist events, reading groups and online festivals. He grew up in the borough of Haringey, where he continues to live, and attended primary school in Southgate. Alongside his artistic practice, he has been the Art Editor for a magazine focusing on race and culture, that collaborated with venues such as the ICA, Southbank Centre, Roundhouse, and he has worked in Project Coordination and Archive roles for major contemporary art galleries. Arieh is currently a core participant in SPUR.world, a six-month virtual residency and online community, with a virtual exhibition opening in April.
Ed Compson is an artist, facilitator and programmer. While his ideas have often manifested using paint and a laser cutter, Ed recently developed an airbound gallery, A Fish You Have Already Caught, in which he etched drawings from his friends, family and strangers onto box kites and flew them for his neighbours during lockdown. Having been Co-director of EMBASSY Gallery, he has experience in arts pedagogy and administration, specifically helping young creatives realise their ambitions through the fabrication, facilitation, and installation of projects and exhibitions. He has teaching experience as an English and Art teacher and is currently helping build Maruseppu Art Residency and Studios, an Art and English school in Hokkaido, Japan.
Bounds Green School is a primary school in Bounds Green, North London. It was founded in 1888 under the name of Bowes Park Board School, and was superseded in 1894 by a new school on Bounds Green Road. The school holds the International School Award and the School Travel Plan Gold Level.