Dan Mitchell
Hello Stupid Eyes
7 - 28 August 2019 | Domino Houses Billboard, Bounds Green Road, N22 8YB
A new site specific commission by Dan Mitchell developed for the Cypher BILLBOARD site.

The billboard artwork will be accompanied by a digital commission for online project space SKELF to be exhibited on http://www.skelf.org.uk/ between 17 July – 22 October 2019, and an accompanying event on Wednesday 21 August 2019.

Dr. Laing Interview by Cypher Billboard:

What first led you to begin a career as a psychopathologist?
I used to be a senior physiology lecturer in London, but after the luxury high rise apartment building I was living in provoked a shattering critical mass amongst the residents and caused the destruction of the social fabric, rather than flee the chaos I stayed and fully submerged myself in the emerging sinister dimensions brought to life by the building and its occupants. As a result, I changed career and became a consulting psychopathologist. I had to pretty much invent the role for myself as it didn't exist. I wrote a research paper on my experience, working with the novelist J.G Ballard. Although I trained as a medical MD, I do not have patients or students anymore, rather they are subjects to whom I offer no remedies or cures. My work is a study of the psychopathologies that are paving the road to our new dark age.

How did you first come across Dan Mitchell's work? How is your working relationship, do you have a clear idea of what you are commissioning or do you let Dan have free rain on your proposal?
A colleague of mine is an collector of contemporary art, specialising in the work of artists who have rejected the common place, post art school, established and mediocre approach to their role and instead have a profound and genuine relationship with themselves, often to their own detriment. As Susan Sontag demonstrates in her text; The Pornographic Imagination, "the exemplary modern artist is a broker in madness." She has a few pieces by Mitchell in her collection, and at first I was disturbed by what I saw in his work, but his images stuck and I realised that he had captured a part of my mind, the part that had been forced to drop the shroud of normality when the apartment building I was living in provided the insight into new possibilities. Mitchell has had his own transformative experience, being an ex user of mind altering substances, by all accounts he was total drug addict - daily use of cocaine and heroin etc, and he broke through the prison, from which escape is usually insanity or death. He has provided me with drawings and artworks over the last 10 years. The commissions are relatively straightforward in their process. We meet and I describe the project I'm working on, he takes a few notes and disappears for a while and then sends me a draft of what he's managed to dredge up. We discuss his proposals and to date, I have had little to add as his vision perfectly captures the essence of what I need for my sessions.

Can you tell me about your first impression of Bounds Green? Why you felt it was important to take Bounds Green on as one of your subjects?
Bounds Green struck me as being absolutely normal, indeed so ordinary that there was obviously something special going on. The suburbs allow people the freedom to explore their own imaginations, but Bounds Green's hyper normality and total lack of consumable culture - combined with my subjects intense use of the internet has resulted in a state of profound enhanced atomisation. It's clear that rogue AI bots have infected their minds creating a ceaseless demand for greater amounts of neurotransmitted pleasure, they have reached the ceiling of their brains ability to provide ever more intense rapture and so have a profound need to escape. Modern medicine failed to offer up a lasting legacy; time has proven its corrupting and corrupted nature. My subjects need to experience real freedom, freedom from morality.

Why did you choose to specialise in offering no remedies or cures in your practice as a psychopathologist?
I freed myself from the burden of offering treatment, in order to examine in greater depth the psychopathology of current trends and how they affect what it means to be modern. Treatment is, by its nature, seeking a break in aberrant behaviour, I have no wish to do this as the current treatments offered only provides another layer of obfuscation and actually increases the chances of permanent solidification into continuous insanity. Rather I wish to examine what happens when my subjects are free to pursue their own subconscious agendas. Society has failed to domesticate humans, and so is resorting to draconian methods of enslavement and torture.

What is the most important piece of advice you can give to aspiring psychopathologists?
If you are considering a role as a psychopathologist then be prepared to follow your own obsessions, wherever they might lead. It is only then you'll be equipped to be able to stay in tune with your subjects and truthfully examine what is really inside of them and therefore you.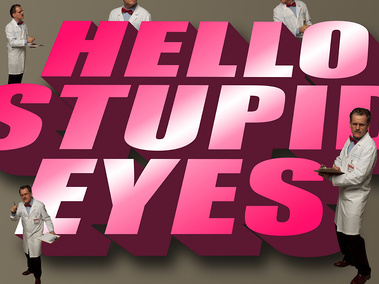 Wednesday 21st August 2019, 7-9pm
Domino Houses Billboard, Bounds Green Road, N22 8YB
Join us at the Cypher BILLBOARD site for abnormal therapy and hypnosis by Dr Robert Laing, with live instrumental by The Rebel.
Dan Mitchell is Founder of DEATH LOLZ, Publisher of Hard Mag, cofounder of the Artist Self-Publishing Fair (ASP) and Poster Studio (1994-97). Various solo and group shows include: Luma Foundation, Zurich - Gagosian, London - Oracle, Berlin - Ludlow38, NYC - Temnikova & Kasela, Estonia - Jenny's, LA - Celine, Glascow - 3236RLS, London - Noah Klink, Berlin - and Peak, London. Publications: Hard Mag, DEATH LOLZ Presents and various catalogues and posters. Collaborations: Nang Gallery, Lolina and TheRebel.