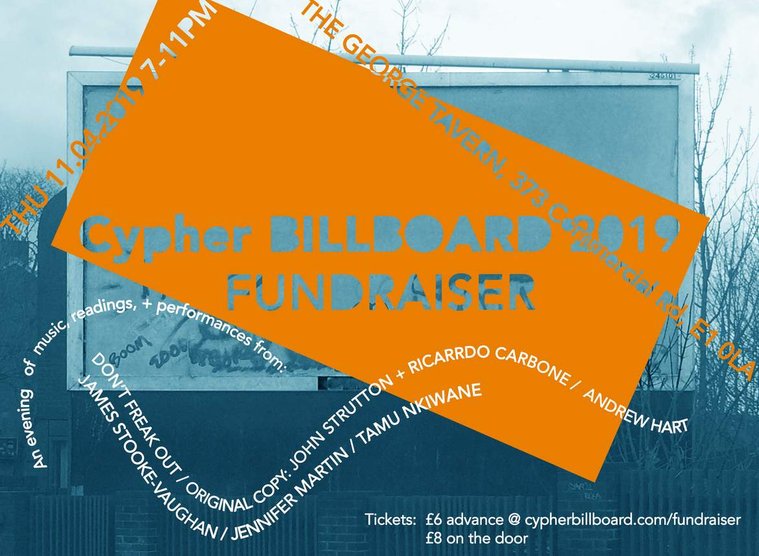 Cypher BILLBOARD 2019 Fundraiser
Thursday 11th April 2019, 7-11pm
The George Tavern, 373 Commercial Road, London, E1 0LA
An evening of music, readings + performances from:
DON'T FREAK OUT / ORIGINAL COPY: JOHN STRUTTON + RICARRDO CARBONE / TAMU NKIWANE / ANDREW HART / JAMES STOOKE-VAUGHAN / JENNIFER MARTIN / + more tbc ...
TICKETS:
£6 adv / £8 otd
Cypher BILLBOARD 2019 launches in May, as a five-month programme of new site-specific billboard works and corresponding events by artists: Eilis Searson + Jakob Rava, Jennifer Martin, soft/WALL/studs collective, Dan Mitchell, and Larry Achiampong.
The programme will also be accompanied by digital works developed for online project space SKELF by BILLBOARD 2019 artists and previous BILLBOARD exhibitors: Holly Graham, Erin Hughes, Milly Peck, Amba Sayal-Bennett + Ralph Hunter-Menzies, and Francesca Tamse.
We're raising money for production costs through this evening of music, readings and performances; spanning audio presentation, poetry, funk-soul covers, and more... Come thruuuu!