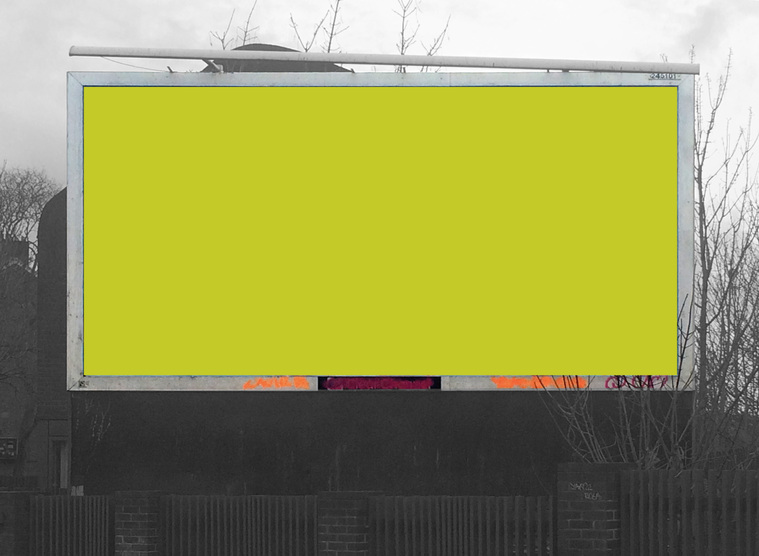 Announcing: BILLBOARD 2021!
Our third series will feature five billboard presentations over the coming year, along with corresponding audio commissions for Threads Radio, launching in January and finishing in October.
Participating artists:
Laszlo von Dohnanyi
Arieh Frosh + Ed Compson + Bounds Green School
Siddhi Gupta + Kat McGrath
Languid Hands
Ryan O'Toole Collett
Elements of the programme will also include workshops with North London Cares, Bounds Green School, and members of the public. Towards the end of the run, we'll be launching a publication featuring contributions from all exhibiting artists.
Laszlo von Dohnanyi is a painter with an interest in the reciprocal influence of 'man' and 'machine'. Central to his work is a fascination with technologically generated images and their aesthetics. Positioned between the antagonisms of the technological object and the traditional field of painting, his work occupies a border area between the two. Laszlo will explore the physical and digital existence of the Cypher BILLBOARD site, looking at the afterlife of the content it has displayed, now documented in glitchy scans by satellites, Google street view images and 3DModel Google Earth Pro scans. Through printing, shredding, and collaging a collection of these images, Laszlo plans to amalgamate these virtual zombies and reanimate them in the physical world.

Arieh Frosh is a practising visual artist working with an interdisciplinary approach, using writing, 3D computer animation, motorised sculptures, and film to form narrative-based projects. Ed Compson is an artist, facilitator and programmer whose work considers how care, craft and intimacy can exist within both virtual and natural systems and digital environments. Arieh and Ed will work with Year 4 students at locally-based Bounds Green School to question how the wind can be captured, represented, and wildly interpreted. A series of workshops will introduce the students to ideas of wind turbines, green energy, the personification of wind in art and mythology, and very simple ideas around data auralization. The result will be a fantastical collaborative image for the billboard itself, and a sound piece dictated by real wind data collected from the local environment.
Siddhi Gupta is interested in using visual communication as a tool for education and simplifying information. Her practice is inspired by culture and manifests where it intersects with education. Kat McGrath is an interdisciplinary designer and researcher working across printed matter, digital platforms, and physical exchanges. She designs and facilitates curated spaces that engage with notions of political discourse, educational structures, and performative modes of learning, such as game play. Over a series of workshops, Kat and Siddhi will map how the Hostile Environment manifests within the ecosystems of the cultural sector, focusing specifically on how Covid has intensified its impact within higher arts education.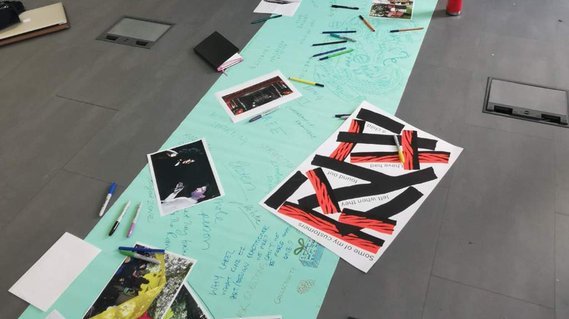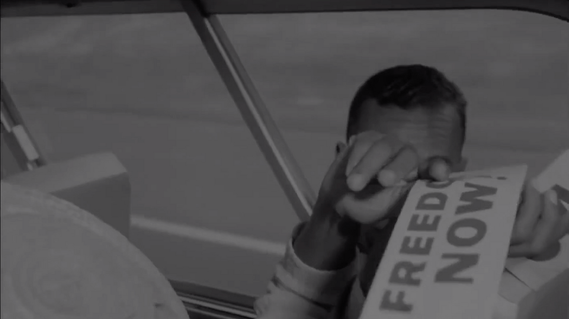 Languid Hands is a London-based artistic and curatorial collaboration between Rabz Lansiquot and Imani Robinson. Their work is informed by ongoing explorations in Black and queer studies, Black creative practice, Black liberatory praxis and queer methodologies. They began collaborating in 2015, through the collective sorryyoufeeluncomfortable (SYFU). In 2019, they made their first collaborative film Towards A Black Testimony: Prayer/Protest/Peace which was commissioned by Jerwood Arts for the group exhibition Jerwood Collaborate!, and exhibited at Stroom Den Haag alongside a curated public programme. They are currently the Cubitt Curatorial Fellows, presenting a programme entitled No Real Closure which showcases the work of 5 Black British artists in exhibitions alongside programming and the establishment of Curatorial Tactics, a network of Black curators.
Ryan O'Toole Collett is a photographer, director and creative consultant based in London and working globally. Ryan comes to photography from a documentary background, and his images are created in a hyper-real style. As a consultant for some of the industry's most vibrant brands, he interprets each client's unique vision and works with them to push the boundaries of visual storytelling. His regular clients include Dover Street Market, British Fashion Council, Adidas, Carhartt Work in Progress, LNCC, ADISH and Youths in Balaclava.
The Cypher BILLBOARD 2021 programme is supported by Arts Council England.

With thanks to Stephen and Lyuba Morris.